Music Photographers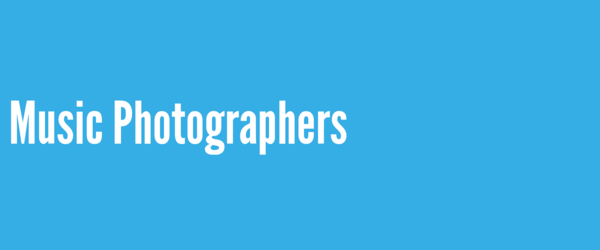 A list of music photographers websites.
1

2

Professional Music Photographer - Author - Instructor - Lightroom User - Photoshop

3

The World's leading Rock n Roll Music Photographer. Album covers, live shots, promo shots and tour photography for all major record labels.Having shot some of music's biggest artists to Worldwide critical acclaim - from her iconic intimate portraits of Thom Yorke and Ian Brown through to Motorhead, Foo Fighters, The White Stripes, Kings of Leon, Iggy Pop, REM, Lenny Kravitz and Iron Maiden.

4

The photography of Amy Willard.

5

UK based commercial and editorial Photographer. Working in Music, Fashion, Beauty and Advertising.

6

Andy Fallon is a music rock 'n' roll photographer based in London. His music photography has been published in NME, MOJO, SPIN, Rolling Stone, The Guardian, The Saturday Telegraph and The Sunday Times magazine.

7

The website of Concert and Event photographer Anthony Washington.

8

Austin, TX-based music photographer. Lover of the rock n' roll. Portraits, promo shoots and live music.

Added by Carlos Matos on Jan 08, 2014

9

Oxford Music Photographer Chris Blizzard

10

New York Music Photographer Chris Owyoung

11

Christie Goodwin is a London based music photographer who provides official tour and album photography for major recording artists including Taylor Swift, Joe Bonamassa, Usher, Katie Melua, Katy Perry, Queen, Dream Theater, John Legend, Kylie Minogue, Chickenfoot, Westlife, Joe Satriani, One Direction and more. Her music photography regularly appears in newspapers and magazines worldwide.

12

A Photo Girl - a blog dedicated to concert, sports, and fashion photography.

13

Rock Music Photographer providing live and promo shoots for bands and artists

14

The mastermind behind the lens.

15

Music photographer Danny North.

16

Acclaimed musician, advertising and editorial photographer who excels at conceptual portraiture. PDN 2013 Ultimate Music Moment winner. Regular contributor to over 30 magazines includeing Rolling Stone, Rhyme Street, Revolver and Spin magazines. House photographer at the Mann Center, and the Trocadero Theatre in Philadelphia, PA. Operates throughout the Mid-Atlantic region and beyond.

17

18

lifestyle photographer/ touring photographer

19

The home of kick ass concert photography.

20

I shoot anything. Shooting photographs is a passion that allows me to express my creativity unlike any other means. The best photos are the ones that are yet to be taken. For me, it isn't just about taking great photos - it's about turning those priceless stills into showstoppers.

21

New York Band Music Photographer

22

Portfolio of UK based Music & Portrait Photographer / Videographer James Arnold.

23

Concert Photography by Jason Wilder

24

Photography portfolio of Jennifer Bronenkant. Includes concert photography, event photography, landscapes, street photography and macro photography.

25

In house photographer for o2 Academy Birmingham!