Phil Robertson Interview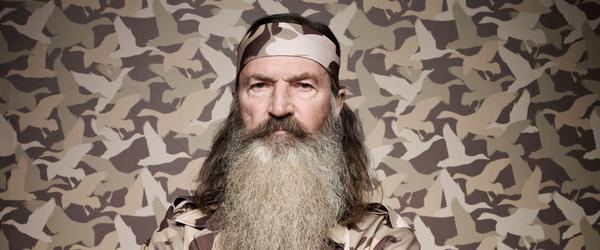 The Duck Dynasty star is in hot water after his latest interview regarding comments he made about gays. Read these interviews to find out what's going on now with Phil Robertson.
1

Let's start with the crossbow, because the crossbow is huge. I'm sitting in the passenger seat of a camo-painted ATV, rumbling through the northern Louisiana backwoods with Phil Robertson, founder of the Duck Commander company, patriarch at the heart of A&E's smash reality hit Duck Dynasty, and my tour guide for the afternoon.

2

John Stamos turned 50 this month and the "Full House" star decided to throw a big shindig Monday night for all his closest friends and family. Everyone, including Ashley Olson, Lori Loughlin and Bob Saget, came out to support Uncle Jesse's big milestone. "Had the party of a lifetime Monday night -...

3

Julia Ramirez via YouTube Phil Robertson addresses diners at the Berean Bible Church in Pennsylvania in 2010, making anti-gay remarks similar to his recent controversial comments in the January issue of GQ magazine. Conservative "Duck Dynasty" patriarch Phil Robertson was caught flapping his gums in an anti-gay tirade three years before his suspension for similar remarks.

4

The reason Duck Dynasty is so popular is people are not buying into this new Cultural Revolutionary ideology. They know it is not true. They know it will not promote the common good. Robertson described in the interview how sin is becoming acceptable in America and that the country needs to turn back to its Christian values.

5

Not only does "Duck Dynasty" star Phil Robertson fail to understand what it's like to be gay, but he also thinks homosexuality is a sin comparable to bestiality. In a shocking new interview with GQ's Drew Magary, Robertson -- the 67-year-old patriarch of the Duck Commander kingdom that earned his Louisiana family a fortune and a hit A&E series -- opened up about "modern immorality" and the gay community.

6

"Start with homosexual behavior and just morph out from there," Robertson said. "Bestiality, sleeping around with this woman and that woman and that woman and those men." "Duck Dynasty" follows members of the extended Robertson clan, the family that runs the Duck Commander hunting supply company in Louisiana.

7

As anyone who's watched even a few minutes of A&E's reality hit "Duck Dynasty" can tell you, Phil Robertson is a pretty conservative guy. But in an interview published in January's GQ Magazine, the duck call inventor and Roberston family patriarch goes on record with comments about the sinfulness of gays and black people under Jim Crow that are about as forward-thinking as his Old Testament facial hair.

8

A&E's "Duck Dynasty"patriarch Phil Robertsonwas suspended following a GQ interviewwhere he expressed his personal distaste of the gay rights movement, echoed biblical views that homosexuality is a sin, and rambled about how blacks were happier during the Jim Crow era.

9

(CNN) -- The family behind A&E's "Duck Dynasty" rallied around its patriarch Thursday, one day after the network suspended Phil Robertson over controversial remarks he made about gays and blacks in a magazine interview. "While some of Phil's unfiltered comments to the reporter were coarse, his beliefs are grounded in the teachings of the Bible.

10

As a straight man, Duck Dynasty's Phil Robertson doesn't understand what it means to be gay. In the January 2014 issue of , the A&E reality star shares his views on homosexuality and opens up about his conservative, Louisiana-based family, and their strong Christian faith.