Best Free Education Web Tool 2013 - Edublog Awards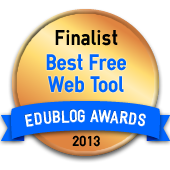 1

The creative visual learning platform that every educator and student deserves.

2

Buncee lets you create amazing things to share with everyone

3

Edmodo provides a safe and easy way for your class to connect and collaborate, share content, and access homework, grades and school notices. Our goal is to help educators harness the power of social media to customize the classroom for each and every learner

4

Instantly connect to what's most important to you. Follow your friends, experts, favorite celebrities, and breaking news.

5

I really like Symbaloo! A place where you can organize and share your favorite websites. How do you like Symbaloo?

6

Pinterest is where you go to discover new things and collect stuff you love. If you find something online you want to build, cook, buy or do, just Pin It to your board on Pinterest!

7

Get constant enterprise innovation with Google, saving your company the time, money and hassles of managing these IT solutions yourself.

8

Dropbox is a free service that lets you bring your photos, docs, and videos anywhere and share them easily. Never email yourself a file again!

9

ThingLink lets users add interactive links to any photo and turn them into fun web experiences that drive engagement.

10

Hangouts bring conversations to life with photos, emoji, and even group video calls for free. Connect with friends across computers, Android and Apple devices.

11

Named one of TIME's 50 Best Websites, Weebly gives everyone a surprisingly easy way to create a unique site. Make a free website, blog or online store with our powerful website builder.

12

13

Mozilla Open Badges is not proprietary. It's free software and an open technical standard any organization can use to create, issue and verify digital badges.

14

Kidblog is designed for K-12 teachers who want to provide each student with an individual blog. Students publish posts and participate in academic discussions within a secure classroom blogging community. Teachers maintain complete control over student blogs and user accounts.

15

Make games, stories and interactive art with Scratch. (scratch.mit.edu)

16

The simplest way to create. From any device, with anyone.

17

Schoology is an innovative learning management system (LMS) and social network that makes it easy to create and share academic content. Sign up today.

18

The easy way to create and share extraordinary videos of your life. Our online video maker turns your photos, video clips and music into video in minutes.

19

Start a WordPress blog or create a free website in seconds. Choose from over 200 free, customizable themes. Free support from awesome humans.

20

21

A safe, free way for teachers to text message students and keep in touch with parents.

22

The LessonPix SoundFinder lets you search for words that contain a specific set of sounds. For example, you can find words with the /SH/ sound or words that end with /NG/. Then, use the matching pictures from our library to create great Custom Learning Materials

23

We make simple learning tools that let you study anything, for free.

24

Video beyond the box. Popcorn Maker makes it easy to enhance, remix and share web video.

25

Vimeo is the home for high-quality videos and the people who love them.